Sesame Oil For Hair Growth & Health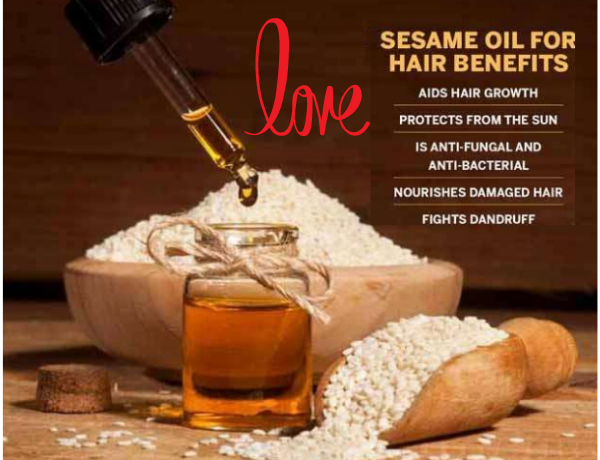 Sesame oil (also known as gingelly oil) is more than delicious.
It's a product of God's creation and can help you be healthier and grow hair faster.
You see...
When sesame oil is massaged into your scalp, it supplies the much-needed nourishment for your hair follicles and shafts. This leads to increased hair growth and scalp health.
Quiet as it's kept, using sesame oil for hair also can work to heal some of the damage caused by the chemical straightening treatments, or hair coloring.
Gingelly oil a.k.a. Sesame oil promotes good scalp health and encourages hair growth. Sesame oil has vitamin E, B complex, and minerals such as calcium, magnesium, phosphorus, and protein that strengthens the hair from the roots and deeply nourishes.

What Sesame Oil Has In It For Your Hair
Sesame oil has high levels of natural health-promoting antioxidants.
These are called sesamolin, sesamol and sesamin oils. Sesamin has anti-inflammatory properties and contains vitamin E. Sesamol, on the other hand, has over 20 beneficial pharmacologically active properties.
Sesame oil is also loaded with B-complex vitamins, including riboflavin, thiamin, pantothenic acid, niacin, folic acid and pyridoxine. It's rich in amino acids that help build up proteins, and minerals like copper, iron, manganese, calcium, selenium, magnesium, zinc and phosphorus.
History Of Sesame Oil (Gingelly Oil)
Sesame has a rich history. Sesame is a tall annual herb from the Pedaliaceae family. Normally used as a food ingredient and condiment, the sesame oil also has beauty and medicinal uses.
Egyptians have records of it getting used to alleviate pain around 1490 years back. The Greeks and Romans are also said to have used sesame oil, for both food and beauty purposes for thousands of years.
The plant has been thought to have taken root as an essential oil thousand of years ago, and is the oldest plant to be used as oil. China used it for almost 3000 years as food, medicine, and ink.
In Ayurvedic medicine, it is used as a base oil for about 90 percent of the herbal oils. In aromatherapy, sesame oil is popularly used as a massage oil and carrier oil for essential oils.
Tip: You can use sesame oil for hair as a carrier oil, and add appropriate essential oils to add to its benefits to get the best results.
Ways To Use Sesame Oil For Hair Growth
Using sesame oil for hair and scalp is very beneficial for hair health and scalp health as is stated above.
But how can you use sesame oil for hair in the best way possible? Here's how.
Eat sesame seeds: Eat a tablespoon of these seeds every day in the morning. As sesame is filled with magnesium and calcium, you get faster hair growth. The sesame oil for hair growth comes from the seeds.
Massage your scalp and hair: Use sesame oil for hair and scalp massage. It soaks in quickly and nourishes the hair inside out.
Add It To your Hair Mask: Add sesame oil to any hair mask that you use. Using sesame oil for hair mask will add its benefits to the benefits of the hair mask you use for your hair.
Use It As a Serum: Use sesame oil for hair shine as you would use a serum.
DIY Uses For Sesame Oil With Your Hair
To Nourish Your Hair:
Mix two tablespoons of sesame oil with almond oil . Massage this mixture into your scalp and your hair from its roots to the tips. Massage for five minutes ensuring you cover the entire scalp and the hair. Once done, wrap a hot towel around your head and keep it on for 30-40 minutes. Rinse out the oil using a mild shampoo. Do this thrice a week.
How it Helps: Almond oil has omega-3 fatty acids, phospholipids, magnesium, and vitamin E. This adds to the goodness of sesame oil and the hair gets nourished inside out. Combine the good properties of almond oil and sesame oil for hair care.
Use As a sunscreen for hair:
Add two tablespoons of aloe vera gel to two tablespoons of sesame oil. Heat this in a saucepan for a few minutes and then set it aside to cool. Apply this to your scalp and hair and keep it on for 30-40 minutes before washing it off with a mild shampoo. You can do this three times a week. See article about 3 ways to use aloe vera for MASSIVE hair growth.
How it helps: It forms a protective barrier for the harmful UV rays and the heat. Aloe vera helps to soothe the scalp and hair along with the sesame oil for hair.
To Restore Hair Health:
Mash one ripe avocado and add two tablespoons of sesame oil to it. Make this into a paste, and apply it to the scalp and hair. Keep it on for an hour before washing it off. Do this thrice a week.
How it helps: The antioxidants and vitamin E in avocado add to the goodness of sesame oil. Avocado and sesame oil for hair is the perfect mix for good hair health.
To Avoid Hair Breakage:
Take three tablespoons of sesame oil and heat it in a saucepan. Add a handful of curry leaves to this. Once a black residue starts forming around the leaves, remove the saucepan from the heat and cool it down. Apply this to your hair from roots to the tips and massage it in. Keep this for 40-45 minutes after wrapping a hot towel around your head. Do this three times a week.
How it helps: Mix of curry leaves and sesame oil for hair loss is the solution that will ensure you keep a headful of healthy hair.
Grab a large bottle of Gingelly oil HERE: https://amzn.to/2I7mNcW