Teaching Black Women To Embrace Their Own Hair
Some women, they've been wearing chemical hair relaxers for so long, they don't even know how to do their natural hair.

They don't know how to comb it," she said. "They think you comb it from the root all the way down, from the scalp to the ends, but you don't.

You actually start at the ends and then you work your way back to the scalp. That's the easiest way to comb your hair.
---
Editor's Note: This is a story about a woman making a difference in the natural hair community. Luvina Sabree is a very interesting an accomplished woman. She dove into the world of all-natural products after one of her children was diagnosed with eczema.
She made her own natura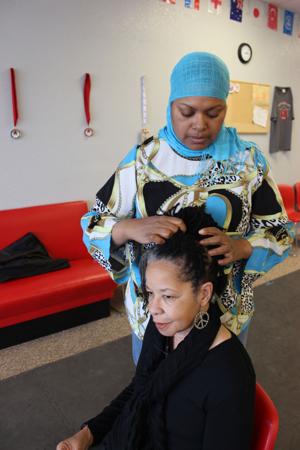 l, fragrance-free soaps
and bath products
and that helped. However, the more she researched eczema, the more she realized that in order to effectively manage the eczema they had to start treating it from the inside out.
Little by little, Sabree cut out all junk and processed foods from her family's diet and started using only fresh, organic ingredients. The eczema improved and the family noticed an immediate improvement in the way they all felt. At that point, she knew she was on to something. That lead to other discoveries about the danger of chemicals and toxins we use on and in our bodies.
Nearly a decade ago, Sabree started a Natural Hair Group in Killeen that still meets monthly.
"There's a movement of women who want to go back to their natural hair and stop using straighteners
with toxic chemicals linked to cancer. Now I do an Armed Forces Natural Hair & Health Expo Show twice a year, once in Killeen and once in San Antonio".
Killeen's Happy 2 B Nappy Hair Group, teaches free classes for black women who want to learn how to take care of and manage their naturally kinky hair. The beautiful thing is that Luvina is able to enlighten so many women who did not understand the very hair growing from their heads, she's able to fill them with knowledge and confidence of who they really are. I hope more women with knowledge began taking on the role that Luvina has embraced, it is certainly needed. Here are our article highlights:
Sometimes the balding caused by perm chemical burns is permanent and irreversible.
Luvina has found

natural herbs

and other remedies to help black women who may have lost or all of their hair because of perming.
Black females should be proud of their natural beauty as it will keep them healthy.